ORTHOTICS
Your feet have a direct impact on the rest of your body. Like the foundation of a house, your feet support the weight of everything above them.
"PUTTING YOUR BODY IN BALANCE WITH ORTHOTICS"
When a small problem develops in your feet, a subtle change in the way you walk will cause a chain reaction of adjustments in your posture and walking mechanics. These changes can put stress on joints higher up in your body, and lead to more serious problem.
HOW DO I KNOW IF I HAVE A PROBLEM?
The symptoms of poor foot mechanics can include any one of the following:
Localized foot pain
Bunions, hammer toes
Arch/heel pain
Leg/knee pain
Hip or back pain – even neck pain
WHAT CAN I DO?
Simply make an appointment and the doctor will assess you. If orthotics are recommended..a cast of the feet is done and sent off to THE ORTHOTIC GROUP where they will create your own custom made orthotics.
ORTHOTICS Testimonials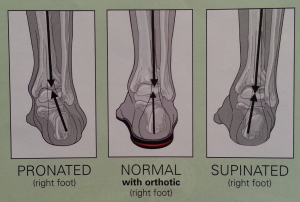 "At the age of 16, I sustained a serious back injury, which left me a paraplegic for over a year. Over the past 30 years I have had surgeries, exercised, massage therapy, physiotherapy and chiropractic care to help me regain the strength in my legs and overcome the stiffness and pain. All the hard work and treatments have allowed me to accomplish a remarkable recovery but I was still looking for more. When I first went to Dr. Robert Anderson, he informed me that my one leg was a little shorter than the other. This caused me to walk crooked and also caused a lot of muscle tension and spasms. I had several bad pressure points on my feet which also prevented me from walking long distances. My right knee always turned in and after only a short walk or standing, i would have a severe burning and aching in that knee. I do not believe in painkillers for every ache and pain and therefore learned to live with a lot of that pain. Dr. Anderson suggested that I should try the foot orthotics. I have now been wearing them in my footwear for four months and the results have been unbelievable. My right knee no longer turns in, there is no more pain or burning and I stand and walk straight. I am now able to walk several miles and stand for hours. The pressure points on my feet are gone. I still maintain my chiropractic treatments once a month and between that, exercising and the orthotics, I am now able to enjoy a much more active life. Orthotics can help anyone. Try them and see the difference."
Anne – Kelowna, B.C.
CALL TODAY AND BOOK YOUR APPOINTMENT
(250) 860-9404